Dutch Modelling and Aviation
Page 6 of 7
The aircraft have one of the main rotor blades painted overall red for recognition purposes. Later all four blades had red parts applied.
Later the tail had the base ribbon of air base Leeuwarden applied.
Scheme
Colour name
FS number
RAL number
Humbrol
XtraColor
Vallejo Model Color
Vallejo Model Air
Revell
Standard #1
Overall Yellow
Yellow
1023
69
X108
70.915
71.002
-
Red
3020
174
X104
70.909
71.003
131
Orange
2009
19
-
-
-
130
Blue
5017
-
X318
-
-
-
White
9016
130
X141
70.916
-
-
Black
9017
-
X104
70.951
71.001
-
Check www.paint4models.com for an extensive conversion table with lots of colour and paint systems.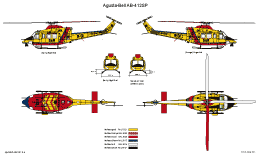 The delivery scheme of the Agusta-Bell AB-412SP.
Till 1998 the units were equipped with high skids, but due to problems with the hoist these were replaced by a standard skid and another float system.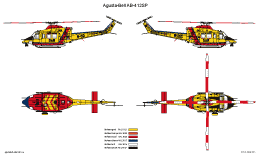 Second scheme: the Frisian flag has been added tot the tail and also the main rotor has red panels applied.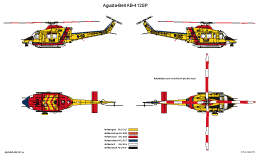 The last version: the left front door window has been replaced with a stowage for a inflatable life boat.