Dutch Modelling and Aviation
Boeing-Vertol CH-47D/F Chinook
Page 2 of 7
In service with RNlAF.
Because of the foundation of the new air-mobile brigade (Luchtmobiele Brigade) the Netherlands needed a fleet of transport helicopters.
In 1993 seven CH-147 Chinooks were taken over from Canada and completely overhauled and modernized and upgraded to CH-47D by Boeing. The Chinooks were delivered between August 1995 and February 1996. Also six new aircraft were ordered, which were delivered in 1998.
The Dutch Chinooks have a modern 'glass cockpit", a hoist and modern avionics.
For self-protection, they are equipped with an APR-39 radar warning system; an AN/AVR2 laser detector and an AN/ALQ156 missile warning system which is coupled with the M130 flare system and also a chaff and flare system can be installed.
Furthermore, they were equipped with more powerful Honeywell T55-L-714a engines of 3069 kW each. These were stronger than the engines installed on the "standard" CH-47D. The revised Ch-47Ds initially had a protection plate mounted under the outlets to protect the fuselage.
Later, the exhausts were oriented upwards and outwards, so these protective plates could be omitted.
The six new aircraft were delivered with this system.
The Chinooks were assigned to 298 squadron, initially stationed at airbase Soesterberg, but later stationed at air base Gilze-Rijen.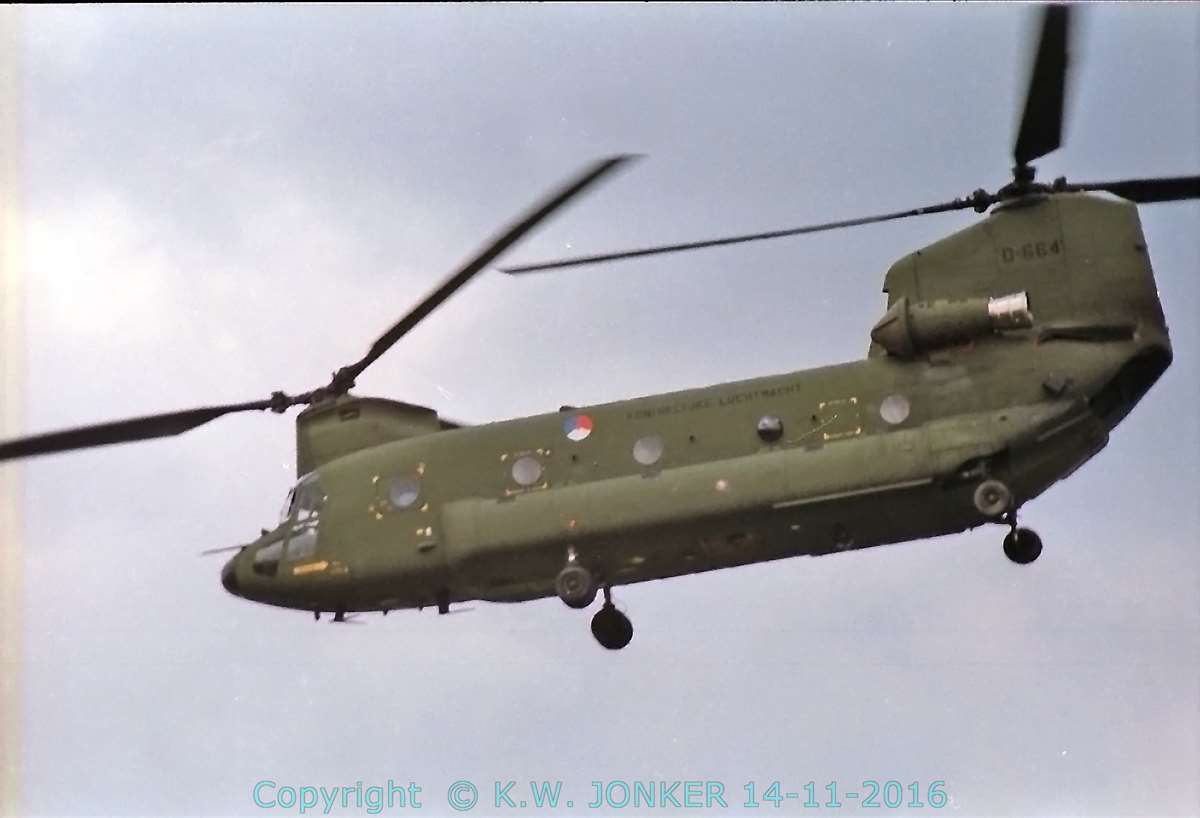 Boeing-Vertol CH-47D Chinook D-664 with the originally mounted deflection plate aft the exhaust (to protect the fuselage because of the more powerful engines used on the Dutch Ch47D) photographed during the Open Day July 1997 at airbase Twenthe.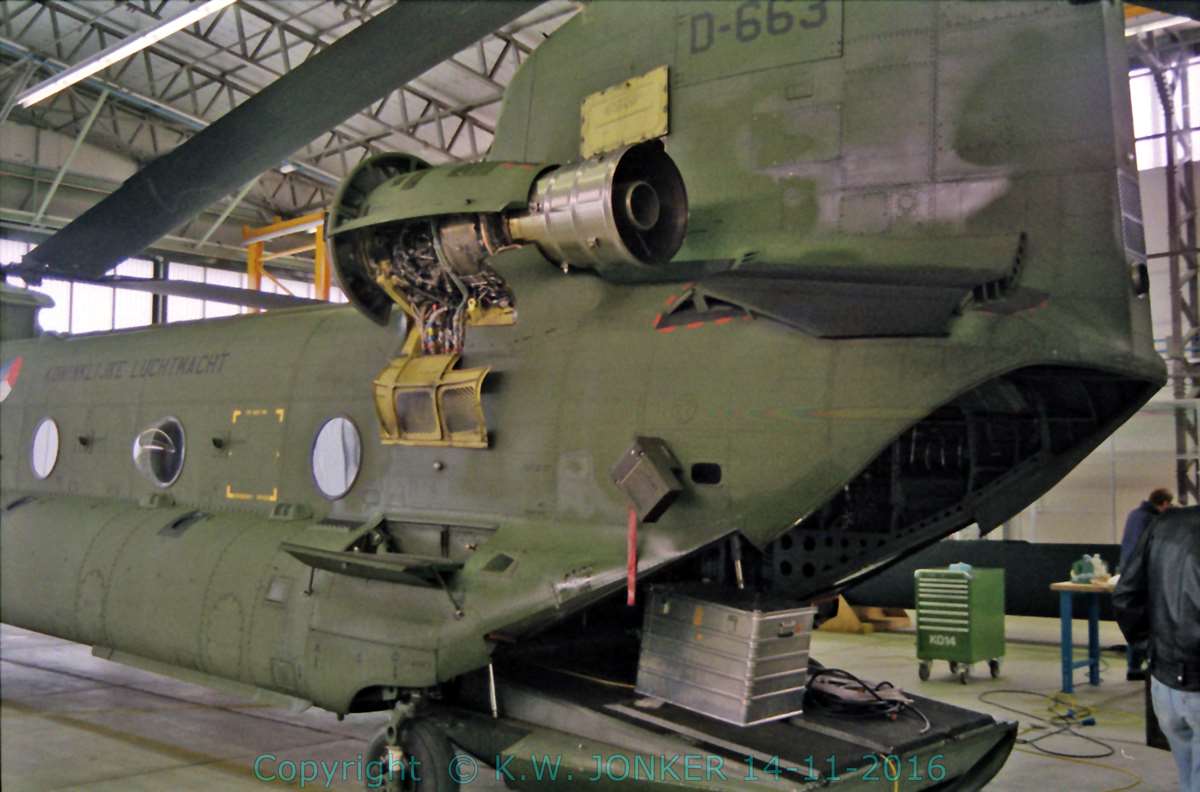 Boeing-Vertol CH-47D Chinook D-663 in the original implementation with the deflection plate aft the exhaust, photographed during a trip to airbase Soesterberg April 1997.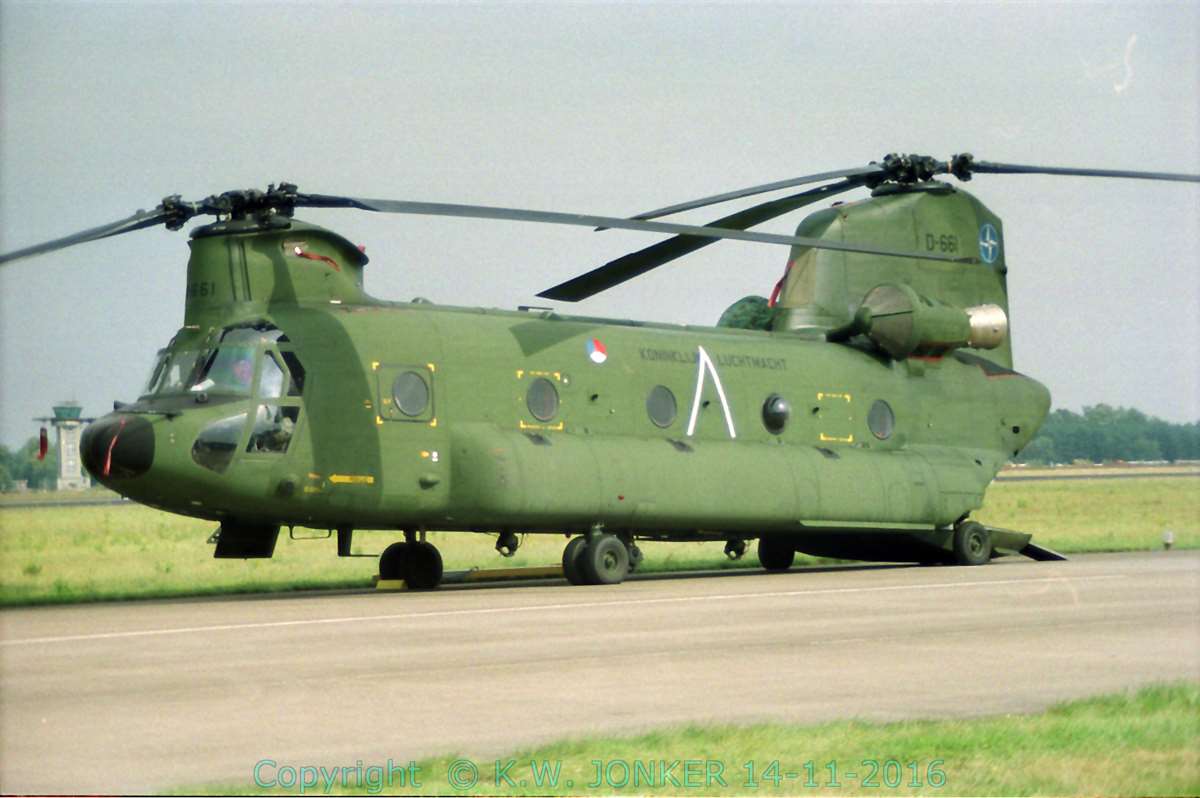 Boeing-Vertol CH-47D Chinook D-661 with UN markings and the slighty outward and upwards pointing exhaust (and omitted deflection plate), photographed during Open Day September 2000 at airbase Volkel.
In 2013 six CH-47Fs entered service as replacement and expansion. Three of these Chinooks are assigned to 302 squadron stationed at Fort Hood in the US for training purposes.
The Chinook is used for wide range of tasks:
Generic transport
Transport of injured and humanitarian support
Search and rescue
Fire-fighting [using so-called "Bambi buckets' with a capacity of approximately 10,000 l]
Operations with 11th Air-mobile Brigade.
Secondments
The Chinooks were frequently sent on mission abroad.
KFOR 1999
For this mission three Chinooks were deployed in the Balkans and transported during more than 700 missions relief supplies and refugees.
Allied Harbour 2000
A mission in Albania.
UMEEE 2001
Humanitarian mission in Eritrea.
SFOR Bosnia: 01-2001 - 06-2004
This was a job where initially five Cougars were deployed and later four Chinooks. These operated from Divulje Barracks in Bosnia.
SFIR Iraq: 07-2003 - 11-2005
For this mission, three, and later four Chinooks and four Cougars were deployed from the air base Talil. They were mostly used by the Dutch Peace Force present.
OEF Afghanistan 05-2005 - 06-2006
For this detachment in southern Afghanistan, the aircraft were used by the Dutch special unit forces.
ISAF Afghanistan: 05-2007 - 10-2010
Commitment for the NATO ISAF operation from Kandahar airbase.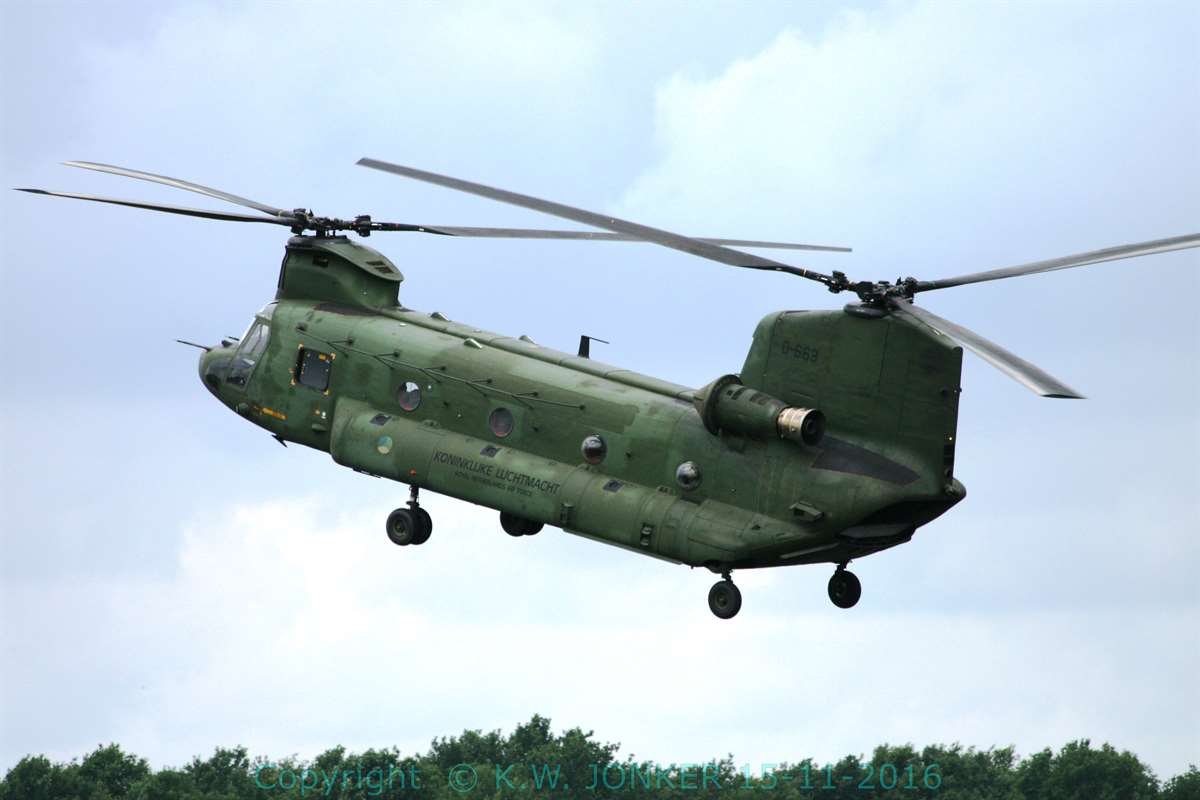 A Boeing-Vertol CH-47D Chinook D-663, with new markings and antennas of the Royal Netherlands Air Force.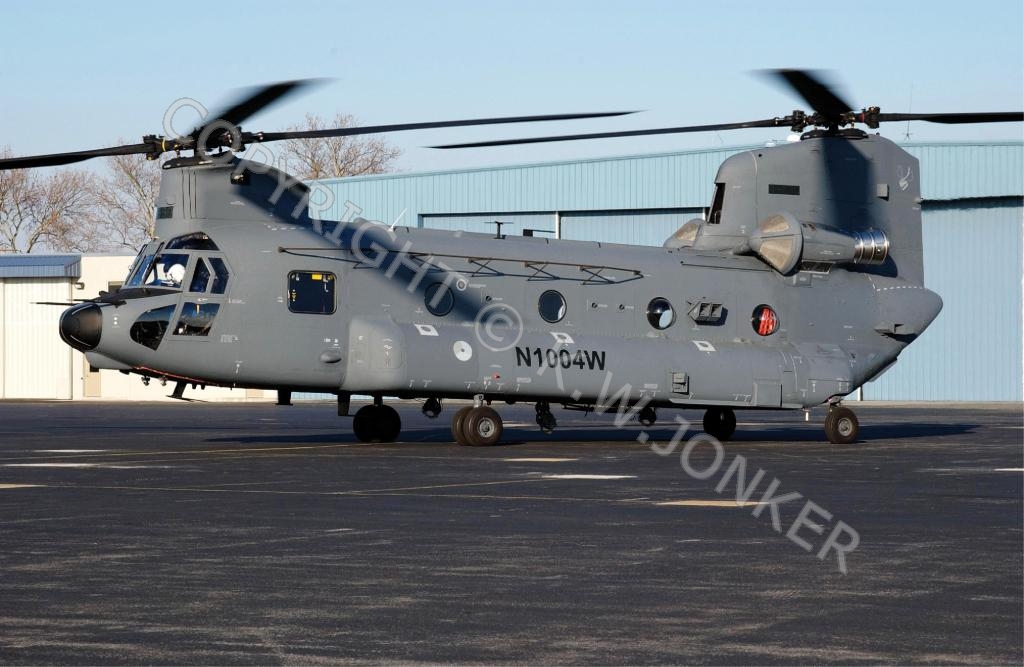 New CH-47F Chinook for the RNlAF at the Boeing Factory (foto via M. Brouwer).
May 2012 the first two new Ch-47F Chinooks were official handed over to the RNlAF, click here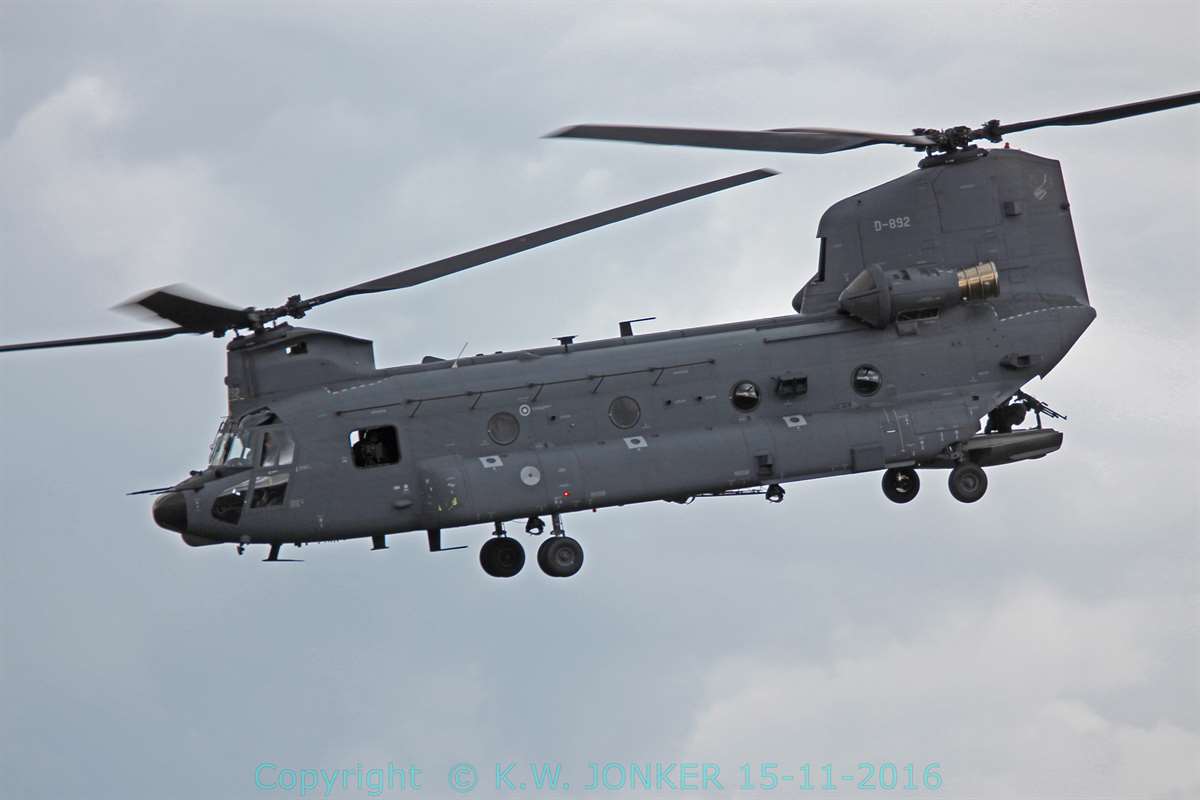 Boeing-Vertol CH-47F Chinook D-892 during the Air Power demo at the Open Day June 2014 at air base Gilze-Rijen.