Dutch Modelling and Aviation
Bristol F2B Fighter
Page 5 of 6
The fuselage was overall PC10. This colour varied from dark green to brown [between Humbrol H179 to Humbrol H108]; the wings were clear doped linen.
The markings of the RNlAF at that time were orange balls. Visible wooden and metal parts were covered with OP7 varnish, which had a colour similar to PC10.
Scheme
Colour name
FS number
Humbrol
XtraColor
Vallejo Model Color
Vallejo Model Air
Standard #1
Fuselage
PC10
~4086
X144
70.830?
Wings
Clear doped linen
121
X105
70.819
Check www.paint4models.com for an extensive conversion table with lots of colour and paint systems.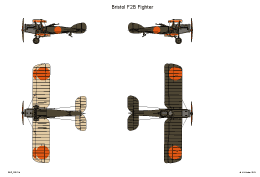 Scheme Bristol F2B: Standard RFC scheme. [note the cock is not applied on this image)