Dutch Modelling and Aviation
Consolidated B-24D & -J Liberator
Page 5 of 6
Scheme
Colour name
FS number
BS number
Humbrol
XtraColor
Vallejo Model Color
Vallejo Model Air
Hataka
Consolidated B-24D Liberator Mk.III: possibly with Dutch flags, but probably with English insigna and three tone camouflage pattern.
RAF Standard #1
Upper surfaces
Extra Dark Sea Grey
~6099
BS:640
123 / 106
X005 / X376
70.866
71.110
~140
Dark Slate Grey
102
X025
70.892
71.092
~202
Undersides
White
~7875
130
70.820
~043
Consolidated B-24J Liberator GR.Mk.VII: Dutch flags applied to all aircraft
RAF Standard #1
Upper surfaces
Extra Dark Sea Grey
~6099
BS:640
123 / 106
X005 / X376
70.866
71.110
~140
Undersides
White
~7875
130
70.820
~043
Check www.paint4models.com for an extensive conversion table with lots of colour and paint systems.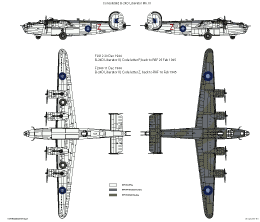 Consolidated B-24D Liberator MK. III.
Two examples of this type were used by the Dutch to convert to the Liberator. The aircraft kept (most problably) their RaF colur scheme and markings an received no Duthc marking.
Consolidated B24J Liberator GR.VI.