Dutch Modelling and Aviation
Curtiss H-12
Page 5 of 6
Hardly any photos are known of these aircraft in RNlNAS service.
The aircraft were rather dark, most probable the standard RNAS paint scheme. This was a black anti-fouling" on the hull.
Other parts were painted with copal-varnish.
From mid 1916 the aircraft of the RNAS were camouflaged, upper surfaces of wings, fuselage, etc. were khaki.
Scheme
Colour name
FS-nummer
BS-nummer
Humbrol
XtraColor
Vallejo Model Color
Vallejo Model Air
Standard #1
Underside Fuselage
Black - Dark brown
~7038
33
70.950
Remaining parts of aircraft
Khaki or olive green
179
179
Check www.paint4models.com for an extensive conversion table with lots of colour and paint systems.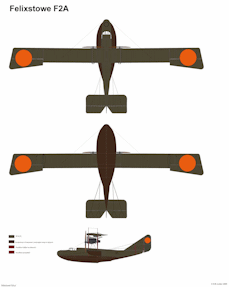 (Possible) Colour scheme Felixstowe F2A.