Dutch Modelling and Aviation
Hawker Hurricane II
History
The development of the Hawker Hurricane started in fact already in 1930, when Hawker designed the Hawker PV3 based upon RAF specification F7/30. The PV3 was in fact an enlarged version of the Hawker Fury.
This design was rejected, so Hawker began designing a monoplane with four machine guns, and powered by a Rolls Royce Goshawk.
On paper, this design was ready in January 1934, but there is no order followed. Chief designer Syndey Camm developed the design further with a retractable landing gear and a Rolls Royce PV-12 engine (later known as the Rolls Royce Merlin).
For wind tunnel tests a 1/10th scale model was built and tested. The tests were satisfactorily and Camm approached the Air Ministry again. This time the response was positive, and there was an assignment for the construction of a prototype.
In November 1934, the Air Ministry released Specification F.5/34, which was based on recommendations by Squadron Leader Ralph Sorley, who stated that fighters should be armed with eight machine guns.
The work on the mock-up was too far advanced to have it adjusted. In January 1935 the wooden mock-up was ready, and with a number of recommendations for some detail changes, the construction of the prototype was approved and a new specification (F.36/34) was written around the design.
In July 1935 this specification was changed and now included the installation of eight machine guns.
On November 6, 1935 the prototype K5083 made its first flight with Hawker's chief test pilot, Flight Lieutenant (later Captain Group) George Bulman.
The RAF trials started in February 1936 and the test results were favourable. The name "Hurricane" proposed by Hawker was approved on 26 June the same year.
Further investigation revealed that the Hurricane had a bad spin-recovery and a modification from the 61st production aircraft was made: an extension of the bottom of the rudder and the adjustment of the bottom of the hull solved the problem.
Initially, the unit was equipped with a Watts two-bladed propeller with fixed pitch, but from April 1939 it was replaced by a De Havilland three-blade variable pitch propeller. This especially reduced the take-off distance with about 140 m to 230 m.
In the summer of 1940, the De Havilland propeller was replaced by a three-blade hydraulic "constant-speed 'propeller.
The Hurricane construction was rather conventional, a metal frame covered with linen. Initially, the wing was also covered with linen.
In April 1939 Hawker introduced an all-metal wing, with which a higher dive speed was possible. Moreover, this wing could handle higher loads.
These wings are also applied to most (operational) Hurricanes.
An overview of the production of the Hawker Hurricane van be found here.
Versions.
Hurricane Mk I:

First production version, with linen-covered wings, a wooden two-bladed fixed propeller, powered by the 1,030 hp (770 kW) Rolls-Royce Merlin Mk II or III engine and armed with eight .303 in (7.7 mm) Browning machine guns. Produced between 1937 and 1939.

Sea Hurricane IA

: by General Aircraft Limited modified version for use from CAM ships, which were equipped with a slingshot. They could return on deck.

Sea Hurricane Mk IB

: Customized Hurricane Mk I version equipped with catapult spools plus an arrester hook. They were used from HMS Furious later from MAC ships.

Sea Hurricane Mk IC

: Hurricane Mk I equipped with slingshot, an arrester hook and the four-cannon wing. 400 aircraft were modified from February 1942 and on.

Hurricane Mk I (refined):

An improved version with a de Havilland (later Rotol constant speed) metal propeller, metal-covered wings, armor and other improvements.

Hurricane Mk IIA Series 1:

Featured an improved RR Merlin XX engine. The new engine was longer than the previous Merlin so the hull was 4.5 inch longer. The first Hurricane IIA flew June 11, 1940.

Hurricane Mk IIB (Hurricane IIA Series 2):

reinforced wings so a bombload up to 2x 500 pounds could be carried. Further this type had a new and slightly longer propeller spinner and an armament of 12 x .303 in (7.7 mm) Browning machine guns. The first aircraft were built in October 1940 and from April 1941 this model was designated as Mark IIB.

Hurricane Mk IIB Trop

: for us in North Africa with a Vokes dust filter and an desert survival kit.

Hurricane Mk IIC:

(Hurricane Mk IIA Series 2) with a new and slightly longer propeller spinner and two times two 20 mm (.79 in) Hispano Mk II cannons in a customized wing. Further a bombload up to 2x 500 pounds could be carried and sometimes also referred to Hurribomber.

Hurricane Mk T.IIC : two examples of a two seat trainer version built for the Persian air force.

Sea Hurricane Mk IIC

: Hurricane Mk IIC version wit a naval radio equipment; 400 examples were modified.

Hurricane Mk IID:

Modified Hurricane Mk IIB with two 40 mm (1.57 in) anti-tank guns in a pod, one loaded under each wing and a Browning machine gun in each wing with tracers for targeting. The newly-built aircraft had additional armour.

Hurricane Mk IIE:

version with modified wing, designated as Mk. IV from 25th aircraft.

Hurricane Mk III:

Hurricane Mk II with a Packard Merlin.

Hurricane Mk IV:

Equipped with an "universal wing", with which a large variance of armament could be supplied. Further equipped with an improved Merlin 24 or 27 engine of 1620 hp (1210 kW).

Hurricane Mk V:

The final version of which three were built. Equipped with a Merlin 32 engine of 1,700 hp.

Hurricane Mk X:

Canadian built version with a 1300 hp Packard Merlin 28 and eight 0.303 in (7,7 mm) machine guns. 490 examples built.

Hurricane Mk XI:

Canadian version. 150 examples built.

Hurricane Mk XII:

Canadian version with a 1300 hp (969 kW) Packard Merlin 29 and initially twelve 0.303 in (7,7 mm) machine guns, later four20 mm (0,79 inch) cannons.

Hurricane Mk XIIA:

Canadian version with a 1300 hp (970 kW) Packard Merlin 29 and eight 0.303 in (7,7 mm) machine guns.

Sea Hurricane Mk XIIA

: modified Hurricane Mk XIIA.
Technical information
Dimensions:
Length:
9,84 m
Wingspan:
12,19 m
Height:
4 m
Wing area:
23,92 m2
Weights:
Empty weight:
2605 kg
Max. start weight:
3480 kg
Performances:
Max. speed:
547 km/hr
Climbing speed:
846 m/min
Cruising speed:
- km/hr
Range:
965 km
Service ceiling:
10970 m
Miscellaneous:
Engine type:
One Rolls Royce Merlin XX rated 1200 hp
Crew:
one aviator
Armament:
Twelve Browning .303" (7.7 mm) wing mounted machine guns [the Mk. IIa had eight machine guns and a shorter propeller compared with the Mk. IIB]
Several marks Hurricanes are mentioned as possibility for the Hurricanes used by ML-KNIL. G. Casius mentions Hurricanes IIA, but P.C. Boer mentions Hurricanes IIB. Both state the aircraft were equipped with eight machine guns, so this eliminates the Mk. IIC and Mk.IID versions.
According to Max Schep the outward machine guns were removed to improve the manoeuvrability of the aircraft. The Hurricanes were delivered wit additional wing mounted fuel tanks, but these weren't probably not mounted during assembly in the Dutch East Indies.
Regarding the Japanese war thread the Dutch government was looking for new fighters in 1940 and 1941 to set up five new Fighter squadrons. August 11, 1941 a order was signed for the delivery of 100 Hurricanes Mk.II, to be built by the Canadian Car and Foundry Co. Ltd. at Fort Williams.
Because of the possible purchase of 72 Bell P-39's, the number of Hurricanes was decreased temporarily to 72 aircraft. January 5, 1942 delivery would start with a first batch of fifteen aircraft a month. The definite contract was signed November 29, 1941, and delivery would start in May 1942. Because of the surprisingly rapid Japanese progress this delivery was cancelled because the Dutch East Indies capitulated on March 8, 1942.
The ML-KNIL used several Hurricanes Mk. II though, these were originally meant for RAF Singapore.
Arrival at Java
A total of 29 Hurricanes arrived February 4, 1942 with HMS Athene in Batavia. The aircraft were assembled by RAF personnel of the 266 Fighter Wing. Unfortunately these men were inexperienced with this, so the work progressed slowly. ABDAIR, advised by Generaal-majoor Van Oyen, decide to add a Dutch assembly team, consisting of about ninety men of the technical services of ML and KNILM! They men worked around the clock for five days and the last fighters were ready on February 15.
The aircraft were transported across the road to Kemajoran and prepared to fly. RAF personnel made the test flights. The Hurricanes were flown by RAF and ML pilots to Tjililitan and handed over to operational units. Soon seventeen aircraft were passed to Palembang (Sumatra) to reinforce 266 Squadron RAF; twelve Hurricanes were handed over to ML-KNIL, ordered by ABDAIR. They were added to 2 Vl.G.-IV, equipped with Curtiss Wright Interceptors.
Java, February 1942, transport of two Hurricanes via the road from Kemajoran (possibly NEIAF aircraft).
The wings are removed and a cover over the nose.
[Enclosed photo from BeeldBank NIMH. Click on photo for ordering information]
Troubles.
2 Vl.G.-IV, was banned from their home base Soerabakja, because of the fast Japanese approach. The squadron arrived February 13, 1942 at air base Andir, with the six remaining Interceptors. February 16 they departed with the Hurricanes to Kalidjati for a training program. Because of bad weather and the war the runway was in poor condition. Pilot Bruinier damaged his Hurricane during landing. During the training pilot Hermans suffered an engine failure on February 17. and he made a crash landing. So two Hurricanes were lost during the first few days.

Because the installed radio could be used with the Dutch frequencies, problems with the oxygen supply and lack of the English tooling needed for maintenance, the Hurricanes were hardly to be used operational.
For support thirty or fourty RAF specialist were added to the technical services. The technical officer advised to remove the tropical filters, so the machines were about 10 miles per hour faster.
Operational use Kalidjati
The British Hurricane squadrons were irritated because the Dutch hadn't used their Hurricanes operational yet. For the temporary Commander Air Forces, Captain-observer Leyden, this was a reason for ordering Standing Patrols.
February 25, 1942 the Japanese attacked Kalidjati. At the first alarm eight Hurricanes took off and flew a patrols for about two hours at a height of 6000 m, when lack of fuel necessitated the aircraft to land. Two aircraft had just landed and a third, with pilot Jacobs, was just approaching, when the Japanese attacked the air base and bombed it.
Jakobs took off again, but was shot down soon and made a belly landing. His Hurricane was total loss. The two aircraft just landed, were damaged by bullets and shells. The other Hurricanes were incorporated in a dog fight, but had to withdraw because of the fuel situation. Two aircraft moved to Tjikampek, where, special for the Hurricanes, stock with 100 octane fuel was available. The others landed on Kalidjati. Hamming run into a bomb hole, damaging his aircraft.
When both pilots had returned from Tjikampek, Kalidjati was attacked and bombed again. Hamming's aircraft was now shot to pieces and the runways were severely damaged.
Action from Ngoro
February 26 it was decided to send most of the ML personnel on West-Java to the East of Java to support the 17 Pursuit Squadron RAF. The six Hurricanes departed also and flew via Madioen to Ngoro. Also the ground crew was moved to the East of Java. February 27 a seventh, repaired Hurricane arrived. Kalidjati was lost just a week later on March 1.
The left and cannibalized (to repair the seventh Hurricane) Hurricane was captured by the Japanese.
For servicing the needed ammunition, oxygen and hydraulics arrived on February 27 and 28. Just in time, because March 1 from Ngoro a massive allied attack of the Japanese invaders was done. The Dutch Hurricanes joined this attack.
The wooden propeller of the aircraft of Elt.Vl.Wn. Bruinier was damaged during this attack. He managed to make a safe landing at Madioen.
Sgt.maj.Vl. Boonstoppel also made a safe landing at Madioen. A third Hurricane (serial Z5664 ?) made an emergency landing in a rice field near Bodjonegoro.
At the front line again
After the safe return of the other Hurricanes at Ngoro, a Lockheed 12 arrived with the radio crystals needed/ The Lockheed had been attacked by some returning P-40's, but these stopped when they noticed the flags of the Lockheed.
During the debriefing Ngoro was attacked by two Japanese Navy O's and "strafed". Because Ngoro was in fact a hiding field, very lightly FLAK was available.
When the attack was finished all USAAC- and ML- aircraft were heavily damaged or destroyed except for two Hurricanes. The Lockheed 12, which lacked camouflage and wasn't hidden yet, was also destroyed.
Failed withdrawal.
Because of the attacks 17 Pursuit Squadron was withdrawn from Ngoro. The two Hurricanes left also for Bandoeng. Pilot Vdg.Vl.Wnr. Wink, who has flown only Brewster Buffaloes thus far, was flying one of the aircraft. He had received a cockpit instruction of five minutes.
The rest of the Ml crew left Ngoro by car.
When they had left Ngoro was attacked for a second time.
Wink, encountering problems with the fuel system, made an intermediate landing at Wirasaba. While taxiing his aircraft suddenly stood on its nose, damaging the wooden propeller. A new prop was unavailable, so he was stuck at Wirasaba.
Because this airfield was to be evacuated, the Hurricane and two Glenn Martins were set to fire.
Pilot Lt.Vl. Marinus wasn't lucky either. Due to fuel problems he had to make an emergency landing at air base Surakarta, which wasn't finished yet. No 100 octane fuel was available only car fuel. His aircraft was filled with this fuel and on March 2, Marinus tried to take off from a dry rice field. The runway had been destroyed already because of the Japanese approach. His aircraft crashed in take off and was total loss.
The last Hurricane
Pilot Sgt.maj.Vl. Boonstoppel, who has landed earlier with his Hurricane at air base Madioen, arrived at Andir. He heard by phone that Ngoro was evacuated and was sent to Pameumpeuk for refuelling. As only 90 octane fuel was available, he went on to Maospati. This air base was being evacuated also, so he returned to Andir.
It was intended that he joined an attack on Japanese units near Eretan Wetan. In the morning he discovered that ground crew has removed his propeller in order to repair the aircraft of pilot Wink (mentioned above) The prop was mounted again, but to late. The last Hurricane was captured by the Japanese on March 8.
Serials are not certain. According to P.C. Boer one of the Hurricanes was serialled Z5664. The other Hurricanes might have serials in the Z56 range. In a letter he notes the only known serial to be Z5663.
Via Hans Berfelo I received the following listing:
Hurricanes IIA: Z2581, DG614.
Hurricanes IIB: Z5317, Z5319, Z5341, Z5437, Z5546, Z5546, Z5555, Z5556, Z5602,Z5609, Z5612, Z5616, Z5619, Z5622, Z5664, Z5682, Z5683, Z5690, Z5691,BD778, BG677, BG677.
and probably Hurricanes IIB: BD890, BD892, BD896, BD927, BE149, BE194,BE206, BE210, BE218, BE225, BE293, BE332, BE333, BE362, BE363
This list is based on the cargo-list of HMS Athene and English archives, researched by J. van der Wei.
So in fact 38 of the 39 Hurricanes are determined.
Note that serial Z5663 is not on this list, but serial Z5664 is! It is possibly a mistake in his letter??
Perhaps sometimes a photo is found of a Dutch Hurricane. Personally i think it outstanding that thus far in the Japanese archives nothing is found about captured Dutch Hurricanes.
Any information is welcome.
Scale 1/72
Airfix

Kit 02082

: A Mk.I/Mk.II. This kit is originally a Mk.II.

Options added are bombs, a 40 mm gun and extra fuel tanks. The fuselage behind the canopy is to low, the canopy itself is to flat and the spinner added is not correct.

Hasegawa

Kit 24AP135 / 24AP147

: Kits of the IIB and IIC respectively. These are very good and nice kits.

Heller

Kit 269

: A Mk.IIC.

Also a nice model, though for a Mk. IIB the armament needs to be replaced. Size and form of the tail unit and wing tips needs to be corrected. Best replace them.

SMER

Kit 0842

: A Mk.IIC. This is the same as the Heller kit.

Revell

Kit 04144

: A kit of the Mk.IIc.

Kit 04138

: A kit of the Mk. IIB.

Academy

Kit 2129

: A Hurricane Mk. IIC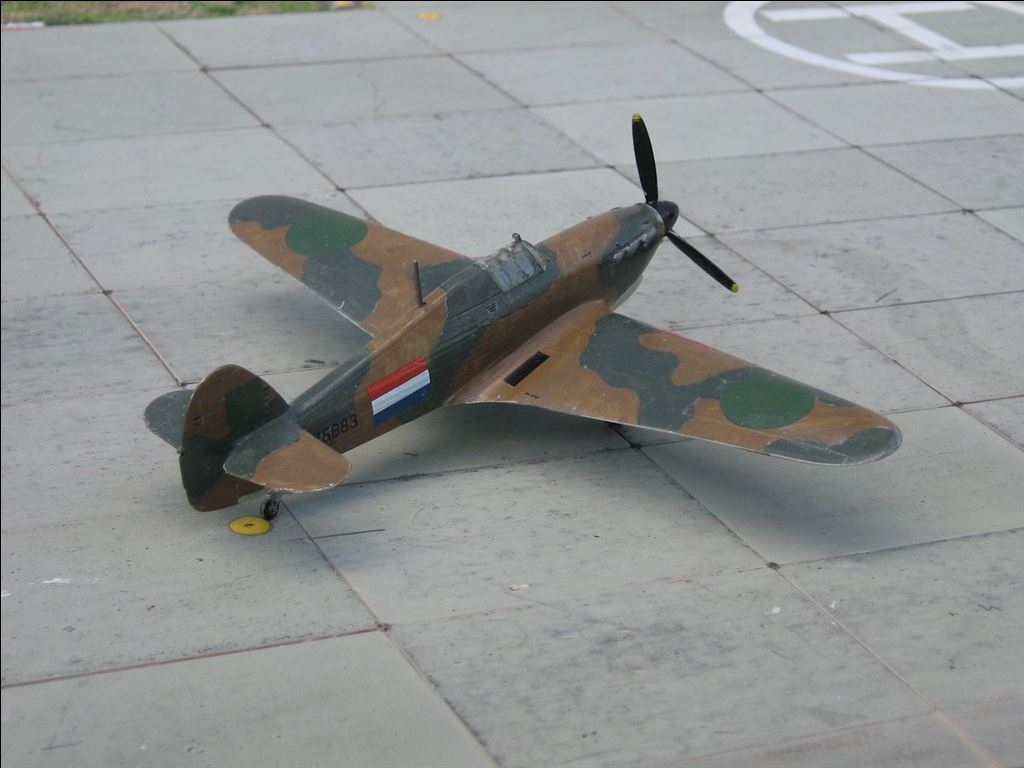 A model of a Hawker Hurricane, built by Adri Kleijn.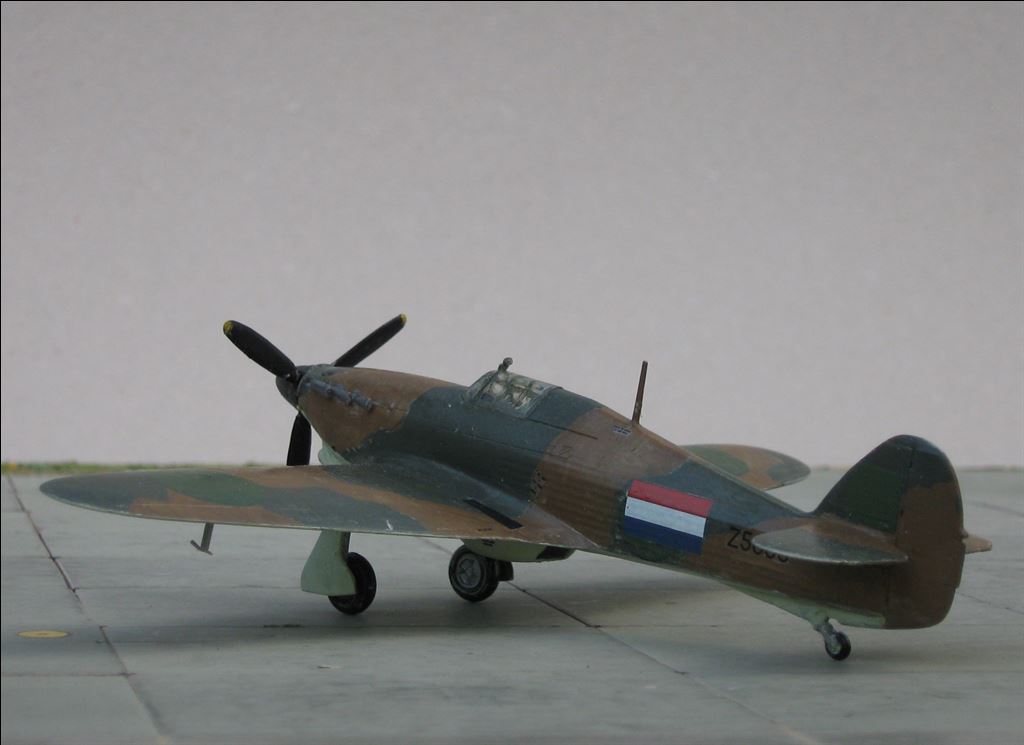 A model of a Hawker Hurricane, built by Adri Kleijn.
Modelling add-on
Aeroclub

Set P051

: Watts Air screw:

Set C050

: Canopy

ExtraTech

Set 72045

: Detailling set for Academy IIC

Set 72083

: Detailling set for Revell IIB

Eduard

Set SS117

: Detailling set for Revell Mk. II

Set E72-289

: Detailset Hawker Hurricane MkIIb (Revell)

Set XS003

: Express Mask Hawker Hurricane MKII (Hasegawa)

CMK

Set A7010

: Hurricane MKII Interior set (Revell)

LF Models

Set D7202

: 40 Gallon Long range tanks for Hurricane MKII

Kora Models

Set d7258

: Hawker Hurricane MKII-IV Late type wheels

Resin Art Simple

Set 7319

: Hawker Hurricane MKII Wheels

Peewit

Set M72002

: Hawker Hurricane MKIIc Canopy masking (Smer/Heller)
Decals
Dutch Decal.

Set 72035

: Set for e.g. Do-24; Fokker T-IVa; Hurricane IIa/IIb

FlevoDecal.

Set FD72-003

: ML KNIL 1942-1947 Part 1.
Scale 1/48
Airfix

Kit A05127 / A04102

: Hurricane MKI

Hasegawa

Italeri

Kit 342726

: Hurricane MKIIc

Tamiya
Modelling add-on
Aires

Set 4050

: Hawker Hurricane MKII Cockpit Detail set

Airwaves

Set SC4829

: Hawker Hurricane MKIID/MkIV Bomb Racks

Set SC4830

: Hawker Hurricane MKIID/MkIV Drop Tanks

Set SC4828

: Hawker Hurricane MKIID/MkIV Armoured Radiator

Ciro Models

Set C-421

: Hawker Hurricane MKII 44 gal External Fuel tanks

CMK

A4011

: Hawker Hurricane MkII interior set (Hasegawa)

Eduard

Set FE536

: Detailset Hawker Hurricane MKIId Interior Self Adhesive (Hasegawa)

Set E49-536

: Detailset Hurricane MKIId Self Adhesive

Set E49-253

: Detailset Hawker Hurricane MKII (Hasegawa)

Set E48-009

: Detailset Hawker Hurricane MKII

Set XF008

: Express Mask Hawker Hurricane MkII (Hasegawa)

Master, reality in Miniature

Set AM-48-085

: Hawker Hurricane MKIIc Hispano MK2 20mm Cannon with round recoil springs (4x)

Set AM-48-084

: Hawker Hurricane MKIIc Hispano MK1 20mm Cannon with flat recoil springs (4x)

Part Etchings

Set S48035

: Hawker Hurricane MkIIc (Hasegawa)

Set S48039

: Hawker Hurricane MKIID (Hasegawa)
Decals
FlevoDecal.

Set FD48-003

: ML KNIL 1942-1947 Part 1.
Camouflage
The Hurricanes were from a RAF batch and had the standard RAF camouflage of dark-green and dark earth on the upper surfaces and sky on the undersides. The spinner was dark green.
[Max Schep has interviewed several former NEIAF personnel. These men confirm these colours.]
It is not exactly known whether the sky bond on the rear part of the fuselage was applied. This was standard on RAF aircraft, such as the RAF Brewsters used in the same area and period.
National insigna.
At the time the Hurricanes entered service with NEIAF, the orange triangles were used.
The RAF roundels were painted over with paint available, the dark green of the NEIAF and with light grey on the undersides.
The RAF fin flashes were also painted over with dark green.
February 24 and on the Dutch flag was applied on the Dutch aircraft.
According to Max Schep the Hurricanes had the flags applied on February 28 when they were being serviced, this is certainly done before March 3.
P.C. Boer mentions that the markings were not applied on the same location as the RAF markings, but more aft, almost against the serial, with just a half letter space left.
This is reasonable with the hurry in mind and the time the paint needed to dry.
The broad of the flags was about 1,67 times its height. The height was approximately the height of the RAF roundel minus the yellow bond. No markings were applied on the upper side of the wings.
Scheme
Colour name
BS number
Humbrol
XtraColor
Vallejo Model Color
Vallejo Model Air
Standard #1
Upper surfaces
Dark Green
BS:641
163
X001
70.892
71.013
Dark Earth
BS:450
29
X002
70.921
Undersides
Sky
BS:210
90
X007
71.103
Check www.paint4models.com for an extensive conversion table with lots of colour and paint systems.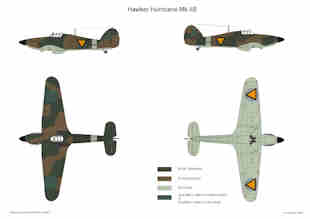 Colour scheme Hawker Hurricane IIB (before March 1942).
Colour scheme Hawker Hurricane IIB (from march 1942 ).
Literature.
| | | | | |
| --- | --- | --- | --- | --- |
| IPMS-UK Magazine | Nr. en jrg. Onbekend | | | |
| 'Stabelan': De Luchtoorlog bij en boven Nederlands-Indië tot maart 1942, dl 8 en 9; | C.R. Patist, m.m.v. Sectie Militaire Lucht­vaart Historie | | jrg. n.b. | - [via M. Schep] |
| Militaire luchtvaart in Nederlands-Indië. | H. Hooftman | p. 43-14 | 1978 | Europese Bibliotheek; Zaltbommel |
| AeroData International No 5 Hawker Hurricane I | Philip J.R. Moyes | Pag. | 1978 | Uitgever: Vintage Aviation Publications Ltd., Oxford |
| "Bloody Shambles: The First Comprehensive Account of Air Operations over South-East Asia December 1941-April 1942. Volume Two - The Defense of Sumatra to the Fall of Burma" | C. Shores, B. Cull en Y. Izawa | | 1983 | Grub Street, London [ Via M. SChep] |
| 'Modelbouw In Plastic'; jaargang 1984, nr. 2: KNIL Nationaliteitskenmerken | M. Schep | p. 26-29 | 1984 | IPMS NL |
| Aircraft Number 72 Hurricane in Action. | Jerry Scutts | Pag. 23 - 30 | 1986 | Uitgever: Squadron/Signal Publications Inc., Carrolton, Texas |
| De Militaire Luchtvaart in Nederlands-Indië | B. van der Klaauw & B.M. Rijnhout | p. 23-24. | 1987 | De Bataafsche Leeuw; Amsterdam |
| 40 Jaar lucht­vaart in Indië | GJ. Casius & The . Postma, | p. 61, 82-83, 152. | 1989 | Uitgeverij De Alk; Alkmaar |
| De Luchtstrijd om Indië. | P.C.Boer e.a. | p. 136-139, 162-164, 171-174, 221-225, 332. | 1990 | Unieboek; Houten |
| Nieuwsbrief nummer 60 januari 1997: Nederlandse Hurricanes op Java | Wilko Jonker | Pag. 18 - 20 | 1997 | Uitgever: St. Vrienden v.h. Mil. Luchtv. Museum, Soesterberg |
| Camouflage en Kentekens | J.Greuter e.a. | | 1997 | Bonneville – Bergen (NH) |
Websites.
Special thanks to Max Schep and Hans Berfelo for all information supplied. Special thanks also for Theo van Schaik for the modelling information.