Dutch Modelling and Aviation
Hawker Hurricane II
Page 5 of 6
Camouflage
The Hurricanes were from a RAF batch and had the standard RAF camouflage of dark-green and dark earth on the upper surfaces and sky on the undersides. The spinner was dark green.
[Max Schep has interviewed several former NEIAF personnel. These men confirm these colours.]
It is not exactly known whether the sky bond on the rear part of the fuselage was applied. This was standard on RAF aircraft, such as the RAF Brewsters used in the same area and period.
National insigna.
At the time the Hurricanes entered service with NEIAF, the orange triangles were used.
The RAF roundels were painted over with paint available, the dark green of the NEIAF and with light grey on the undersides.
The RAF fin flashes were also painted over with dark green.
February 24 and on the Dutch flag was applied on the Dutch aircraft.
According to Max Schep the Hurricanes had the flags applied on February 28 when they were being serviced, this is certainly done before March 3.
P.C. Boer mentions that the markings were not applied on the same location as the RAF markings, but more aft, almost against the serial, with just a half letter space left.
This is reasonable with the hurry in mind and the time the paint needed to dry.
The broad of the flags was about 1,67 times its height. The height was approximately the height of the RAF roundel minus the yellow bond. No markings were applied on the upper side of the wings.
Scheme
Colour name
BS number
Humbrol
XtraColor
Vallejo Model Color
Vallejo Model Air
Standard #1
Upper surfaces
Dark Green
BS:641
163
X001
70.892
71.013
Dark Earth
BS:450
29
X002
70.921
Undersides
Sky
BS:210
90
X007
71.103
Check www.paint4models.com for an extensive conversion table with lots of colour and paint systems.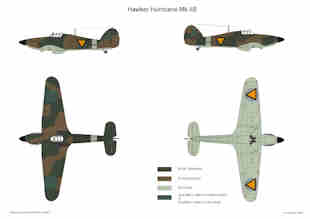 Colour scheme Hawker Hurricane IIB (before March 1942).
Colour scheme Hawker Hurricane IIB (from march 1942 ).