Dutch Modelling and Aviation
Hawker Hunter F.Mk.4; F.Mk.6 and T.Mk.7
Page 2 of 7
In service with RNlAF.
In 1953 a consortium of Fokker, Aviolanda, De Schelde and of Avions Fairey, SABCA and FN-Herstal was ordered to produce 445 Hawker Hunters under license.
FN-Herstal built the engines, whereas Fokker, SABCA and Fairey were building the aircraft.
Fokker built on behalf of the RNLAF (KLu) 189 Hunters Mk.4 and Mk.6 plus an additional number of the 104 Belgian aircraft. In Belgium 152 aircraft were built.
The Hunter replaced in the Netherlands the Gloster Meteor. The RNlAF received also 20 T.Mk.7 trainers from Hawker, England.

Initially several problems occurred with the Hunter, see the text above. In operational use the Hunter was suffering from cross winds, especially compared with the Meteor. Also problems occurred with the Ferranti gun-sight and with the aiming of the guns. These were solved with some help from RAF specialists.
The Hunter Mk.6 was equipped later with Philco Ford GAR-6 Sidewinders.
The first six Hunters Mk.4 were Hawker built, the remaining ninety aircraft were Fokker built. The first Fokker built Hunter, N-107, was delivered February 1, 1956; the last one was delivered November 1, 1957.
Initially the Hunter had squadron codes applies on the nose. The serial was present just below the fin flash on the tail. In 1960 the system of squadron codes disappeared and the N-serial was applied on the nose.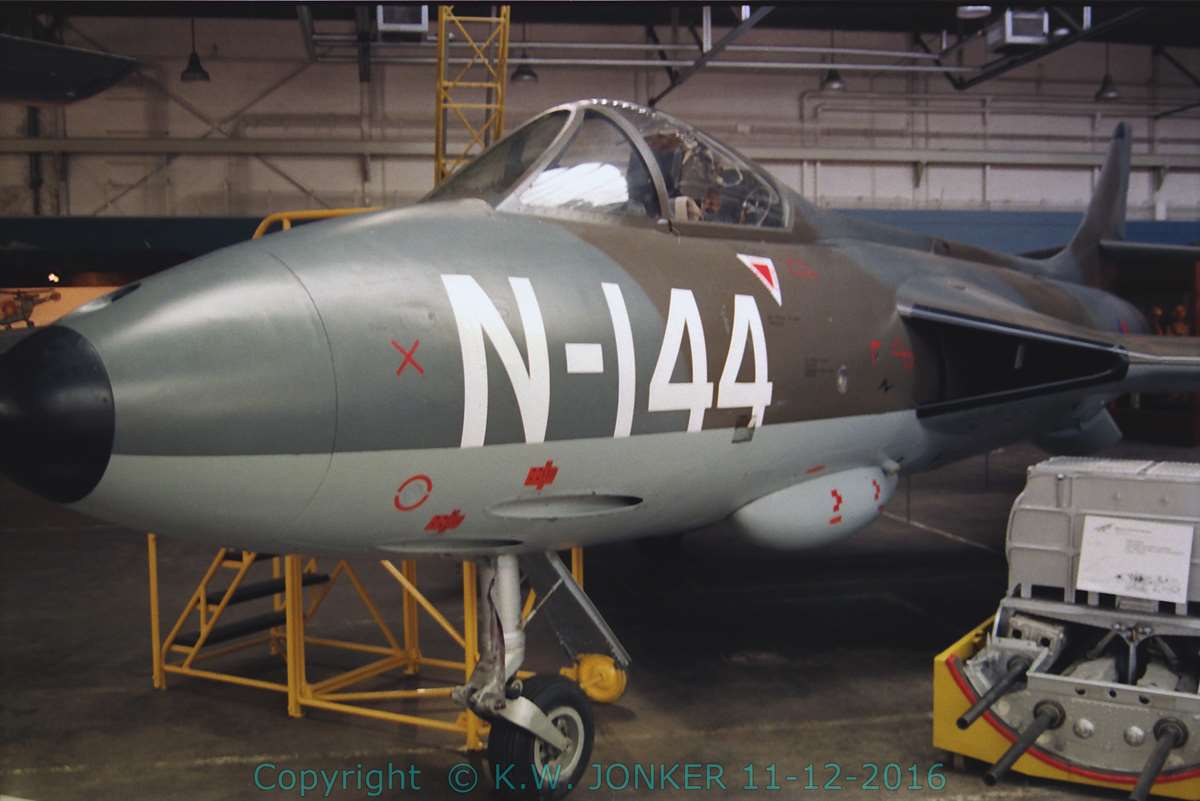 Hawker Hunter F.Mk.4 144 photographed in 1987 at the Militaire Luchtvaart Museum at Soesterberg.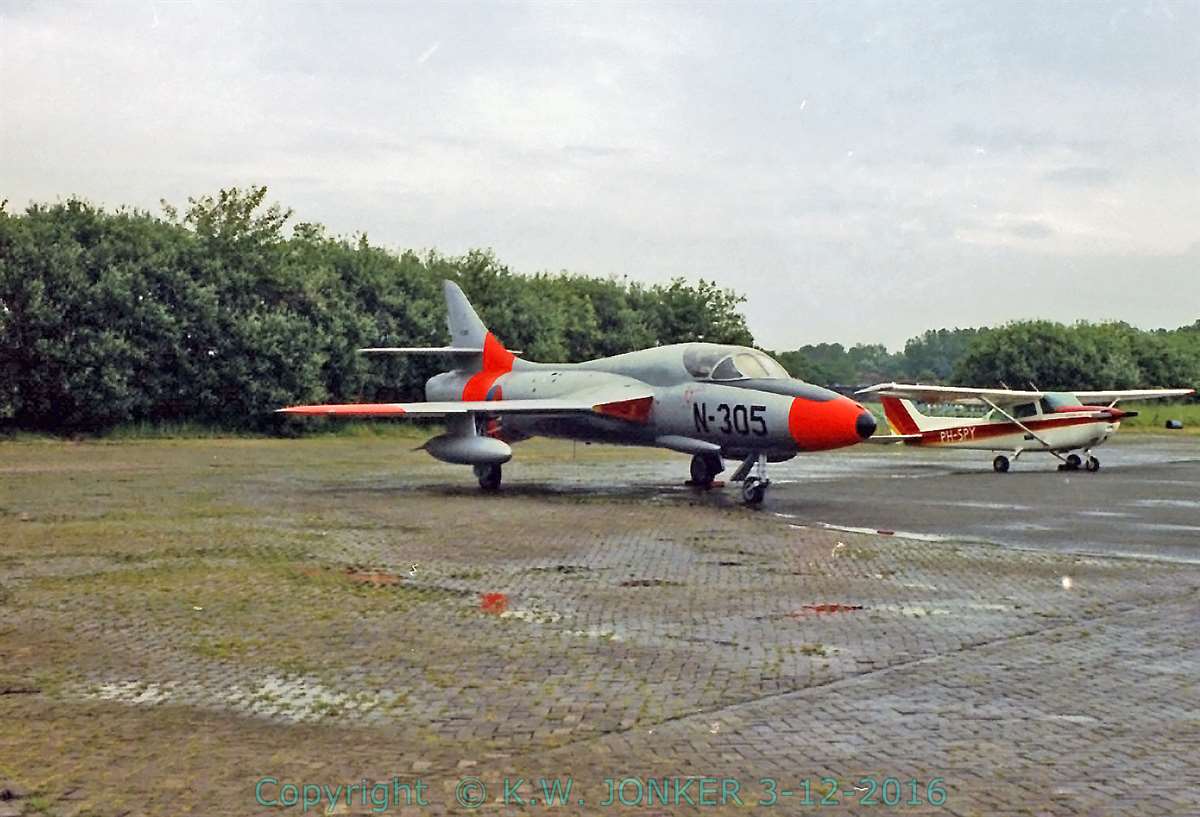 Hawker Hunter T.Mk.7 305 photographed in 1987 at open Day Dutch Air Force at airbase Leeuwarden.
At the end of the fifties modification 228, the wing modification was installed on the remaining Hunters Mk.4. The main external difference with the Mk.6 disappeared with this modification.
The only difference was in fact the engine and the corresponding exhaust. The Fokker production of the Hunter Mk.6 started in 1957. ninety three examples were built for the RNlAF. The first Hunter F.Mk.6 were delivered tot the RNlAF in October 1957
In 1963 the first Hunter squadrons were equipped with the successor of the Hunter, the Lockheed F-104G Starfighter. The last Hunters were withdrawn form use in 1968.
For more extensive information about the Dutch and Belgian Hunters I refer to the book written by Horsthuis.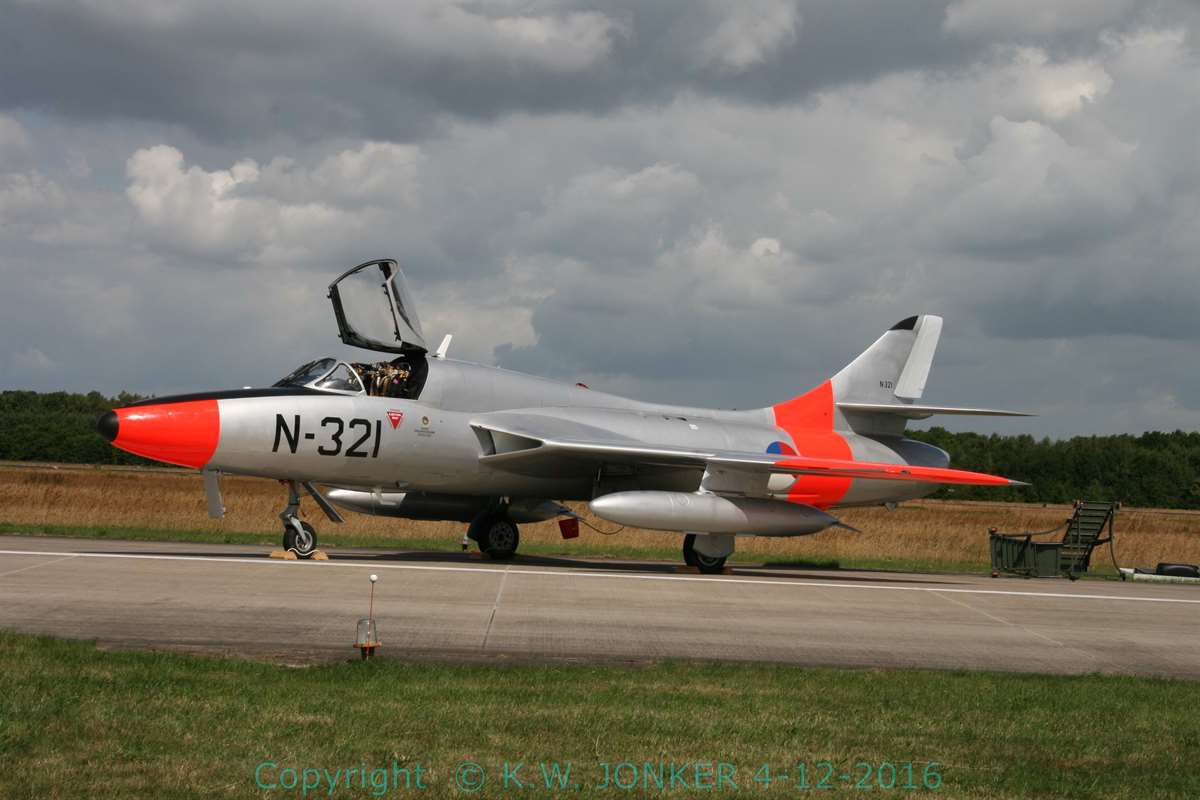 Hawker Hunter T.Mk.8 N-321 of the Dutch Hawker Hunter Foundation photographed June 2008 at Open Day Dutch Air Force at airbase Volkel.
Hawker Hunter F.Mk.6 N-294 of the Dutch Hawker Hunter Foundation photographed June 2008 at Open Day Dutch Air Force at airbase Volkel.