Dutch Modelling and Aviation
Thulin K, KA and LA
Page 5 of 6
The linen parts of the aircraft were varnished, as was usual at that time.
The wooden pieces leading to the hood were also painted white.
The metal hood and spinner were treated against corrosion by a coating. Judging by photographs, this was not a clear coat, but possibly treated with a coloured varnish.
The colour is fact very similar to the rest of the unit and is clearly not white (painted metal).
Scheme
Colour name
FS-number
BS-number
Humbrol
XtraColor
Vallejo Model Color
Vallejo Model Air
Standard #1
Linen parts
Doped linen
121
X105
70.819
71.028
Metal and wooden parts
Varnish
Check www.paint4models.com for an extensive conversion table with lots of colour and paint systems.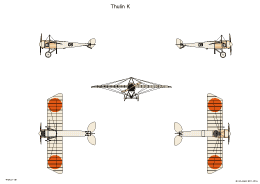 Colour Scheme Thulin K.