Dutch Modelling and Aviation
Pfalz D.IIIa
Page 5 of 6
At Forum World War I (Dutch) it is said this Pfalz was overall brown with a white rudder.
At Beeldbank NIMH an rear view can be found of this aircraft. The wings don't seem to have lozenge pattern applied, though some pattern is is visible on the wings.
Scheme
Colour name
FS-number
BS-number
Humbrol
XtraColor
Vallejo Model Color
Vallejo Model Air
Standard #1
Wings
Lozenge?
Upper surfaces
Bronwn?
160
X619
70.984
Undersides
Light grey
Check www.paint4models.com for an extensive conversion table with lots of colour and paint systems.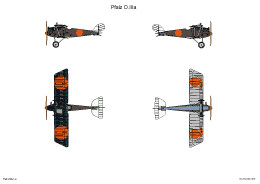 Pfalz D.IIIa: brown fuselage; lozenge on top of the wings.