Dutch Modelling and Aviation
Airspeed AS-10 Oxford Mk.II
Page 6 of 7
Both the Oxfords of the RNlAF as of the RNlNAS were delivered in standard RAF camouflage scheme.
The Oxfords of the Air Force had the RAF serials on the fuselage with a code on the tail. Later these Oxfords received a new Dutch serial, applied in white, starting with C an later also received an overall trainer yellow paint scheme with the serial in black.
The aircraft of the Dutch navy were later camouflaged overall grey with white serials.
Scheme
Colour name
FS number
BS number
Humbrol
XtraColor
Vallejo Model Color
Vallejo Model Air
Hataka
Delivery scheme: Standard RAF scheme
Upper sides
Dark Green
BS:641
183
X001
70.892
71.323
~143
Dark Earth
BS:450
29
X002
70.921
71.324
~206
Undersides
Yellow
~3538
BS:356
154
X213
70.953
71.078
~066
Scheme # 2
Overall
Yellow
~3538
BS:356
154
X213
70.953
71.078
~066
Scheme #3: RNlAS
Overall
Extra Dark Sea Grey
~6099
BS:640
123 / 106
X005 / X376
70.866
71.110
~140
Check www.paint4models.com for an extensive conversion table with lots of colour and paint systems.
Several colour schemes applied on the Dutch Airspeed Oxford.
These scheme's are meant for illustration purposes only. The size and type of used fonts of the serials, the size of the roundels etcetera are not always correct, but are as good as possible a simulation of the original.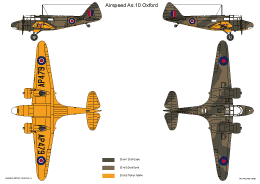 Standard RAF scheme Airspeed Oxford.
Shown is an example of an aircraft used by the no 1316 Dutch Communications Flight.
Probably orange triangles were applied just at the cockpit area, these are shown somewhat faded on the drawing.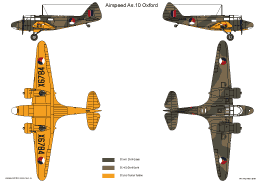 Delivery scheme Airspeed Oxford.
This scheme is the same for the aircraft of both LSK and MLD and is equal to the standard wartime RAF scheme.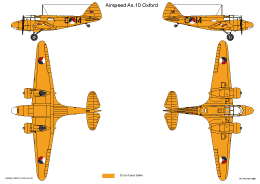 Third scheme Airspeed Oxford LSK.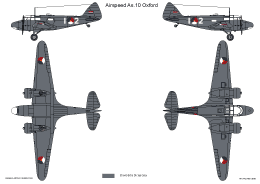 Second scheme Airspeed Oxford RNlNAS.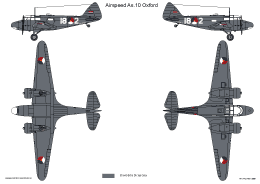 Third scheme Airspeed Oxford RNlNAS.